Community Profile

haikusociety
we live for brevity
Free Account
Created on 2009-04-10 08:39:22 (#30547), last updated 2013-10-07 (206 weeks ago)
9,544 comments received
165 Journal Entries, 20 Tags, 0 Memories, 12 Icons

About
| | |
| --- | --- |
| Name: | Haikusociety |
| Location: | Japan |
| | |
| Membership: | Open |
| Posting Access: | Select Members, Moderated |
| | |

Mini Bio
This is the posting place for the joint writings of
solo
and
jo_lasalle
. At the moment, those are real person fiction based on the band
KAT-TUN
.
Our pairing is Akame -- short for Kamenashi Kazuya and Akanishi Jin.
That would be those guys: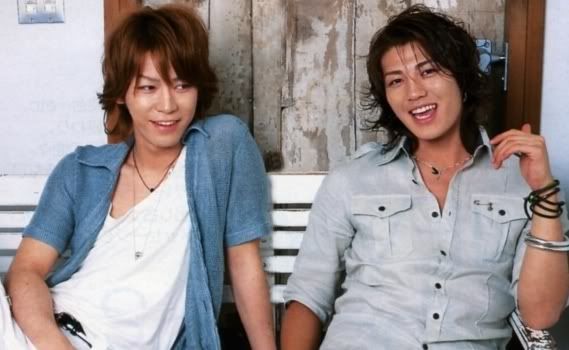 Some of the stories might be sexually explicit. Some of them might be exceedingly fluffy. Some might really be not.
And they are stories. That we make up. And are not intended to reflect what these people get up to in their real lives.
haikuesque
is our joint account for posting to comment challenges and the like. It does nothing else, so there's no point friending it.

Connect
advanced ais,
akame
,
akanishi jin
,
angst
,
bunnies
, bunzo,
cake
, endless sex scenes, epic whorefic romance, experimenting with jeans,
fluff
,
jin
, jin is not dumb, jo fangirls yamapi, julia fangirls yamapi,
kame
, kame likes to top,
kamenashi kazuya
,
kat-tun
, pickle buddies, scary kame,
scorching hotness of jin
, very happy lives, wordcount frustrate on me, yamapi is awesome
Administrators

Members (21):
bellemelody
,
ecatheriina
,
emoda
,
fragileass
,
gal_ps
,
going_dangerous
,
haikuesque
,
jennieannie
,
jona
,
konoya
,
kriszeth
,
matchy
,
mec
,
neernix
,
obscureauthor
,
rheasilvia
,
rierie
,
solo
,
soundczech
,
xxjenxx
,
yici

Subscribers (25):

Linking
To link to this user, copy this code:
On Dreamwidth:
Elsewhere: